Cosmetic Dentistry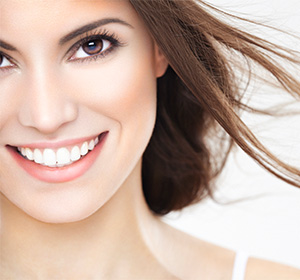 Royal Oak and Birmingham, MI
A beautiful, dazzling smile is often considered to be the single greatest asset in a person's aesthetic appeal.
With mounting pressure from all directions to maintain an attractive appearance, cosmetic dentist Dr. Hartrick and her friendly, caring team can help. We can provide you with the chance to project a winning smile with our cosmetic dentistry treatments to give you a smile makeover.
Some of our cosmetic dentistry treatments include:
TEETH WHITENING | We offer two teeth whitening cosmetic dentistry treatments–ZOOM!® in-office teeth whitening or Sinsational Smile® 20-minute teeth whitening. Your cosmetic dentist can help you decide which procedure is right for you.
PORCELAIN VENEERS | A cosmetic dentistry marvel, just wait and see how gorgeous your smile can become with this smile makeover treatment! Your cosmetic dentist bonds beautiful veneers to your teeth and voila! You have a straight, uniform, glowing smile.
DENTAL CROWNS | Considered both a restorative dentistry and cosmetic dentistry procedure, dental crowns can repair teeth that are damaged and spiff up your smile dramatically. We also offer a cosmetic dentistry sensation called CEREC®. CEREC dental crowns in a day, are made at our office while you wait in one of our comfortable chairs.
DENTAL BRIDGES | To round out your smile makeover, dental bridges can be used if you have missing teeth.
INVISALIGN® | Invisalign clear braces are an excellent smile makeover cosmetic dentistry procedure. You can smile all the while you are getting your teeth straight and beautiful.
TOOTH COLORED RESTORATIONS | Your cosmetic dentist offers you tooth colored, nonmetal restorations, or fillings. These look great and are healthier. What could be better?
With the options available in cosmetic dentistry treatments, your cosmetic dentist will partner with your to give you the smile makeover of your dreams!
Here at Hartrick Dentistry, cosmetic dentist Dr. Hartrick is ready to give you the best cosmetic dentistry smile makeover procedures so you are happy to show off your smile every single day. Call today and let us work together to give you a smile you can show off with confidence.