Dental Implants
Royal Oak and Birmingham, MI
If you are suffering from any number of tooth problems, including missing teeth, a subsequent lack of confidence when smiling, speaking or eating, trouble chewing properly, advanced gum disease, dentures that slip or cause sore spots or problems with existing crowns or bridges, then dental implants can provide an elegant solution.
What are dental implants?
Dental implants are substitutes for natural teeth and offer a permanent and secure solution in replacing one or more teeth. Dental implants can be placed in isolation to replace one missing tooth or as part of a supporting function for other traditional forms of dentistry, such as dental crowns, dental bridges, full dentures or partial dentures. Dr. Hartrick can replace one or all of your teeth using dental implants. If you want to restore your smile in Royal Oak or replace missing teeth in Birmingham, ask Dr. Hartrick if dental implants are right for you.
Dental implants are composed of a replacement tooth that is made of a combination of biocompatible materials, including titanium (the tooth implant) and porcelain (the dental crown that restores the tooth crown.) These materials serve to effectively reinstate the function and aesthetic appeal of your mouth, as the durable titanium metal forms the core strength of the 'root,' while the artificial porcelain tooth provides the structural and cosmetic finish to your teeth.
The process of placing the implant's 'root' or unseen part of the tooth involves the titanium post being placed into the jawbone to act as the core strength of the tooth. Once the implant is in place, the abutment and crown are attached to replace the top part of the tooth.
What are the advantages of a Dental Implant?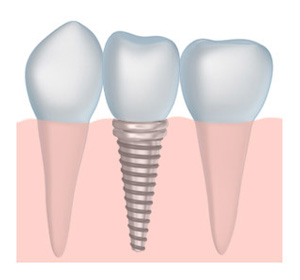 A dental, or tooth implant looks just like a natural tooth. We color match the dental crown that restores the tooth implant, so it matches your natural teeth. Smile, laugh, and get your photo taken!
A tooth implant feels like a natural tooth. It gives your mouth that full feeling and because it is a "new" tooth root, it keeps your cheeks from having that sunken in, haggard look.
A tooth implant functions like a natural tooth. Eat the foods you like.
Dental implants can be used with permanent dentures that are secured permanently, or they can be the removable "click in" dentures. Attached to dental implants, dentures can be far more sturdy than traditional dentures.
At Hartrick Dentistry, we will always provide you with the most thorough and personal advice for your specific treatment needs, and where we feel that your oral situation merits the use of dental implants, we are proud to provide you with the greatest level of care and attention to detail in your implant procedure.
Dental Implants in Royal Oak, Birmingham
While dental implants are known to be the most reliable and preferred method of tooth replacement, that doesn't make them the right choice for everybody. To learn whether you are a candidate for dental implants or to explore your options, just contact Hartrick Dentistry by calling (248) 549-0950 and schedule a consultation today. We welcome patients from the Detroit areas of Birmingham and Royal Oak.