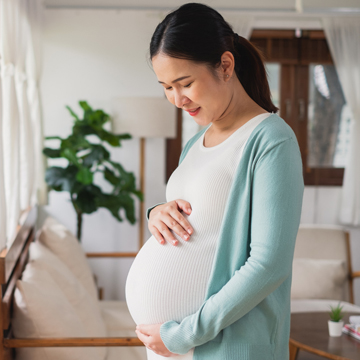 Royal Oak and Birmingham, MI
Dental visits are especially important during pregnancy. The demands placed on a body while carrying a baby — including rapidly changing hormones — can increase the risk of developing conditions that negatively affect teeth and gums. "Pregnancy gingivitis," for example, causes irritated, swollen and bleeding gums during pregnancy, and hormones can alter how gums respond to plaque. Pregnancy requires proper nutrition to meet a pregnant body's changing needs, but that diet — especially if it includes an increased amount of simple carbohydrates — can lead to a higher risk of developing cavities. Meanwhile, morning sickness can damage tooth enamel. For all these reasons — and despite old-wives'-tale warnings to the contrary — dentists encourage Moms-to-be to keep all scheduled dental appointments and even inquire about possibly visiting the dentist for more frequent cleanings during the nine months of pregnancy.
X-rays may feel a a bit off-putting during a pregnancy. After all, what impact could it have on an unborn child? The well-being of Mom and Baby are of utmost importance to our Royal Oak family dentists, and today they're hoping to put expectant parents' minds at ease about x-rays during pregnancy.
If a dentist recommends a procedure requiring X-rays during pregnancy, rest assured it's needed and safe. According to both the American Dental Association and American Pregnancy Association, the amount of radiation used in dental X-rays is lower than what would harm a pregnant woman or her baby. Dental teams further minimize exposure to radiation with the use of heavy leaded aprons and collars, used to protect an abdomen and thyroid from radiation exposure.
Postponing X-rays until after first trimester — Some expectant mothers elect to postpone X-rays until after the first trimester of pregnancy since this is the most critical development period for Baby. While not medically necessary, it's understandable that postponing X-rays until after 13 weeks of pregnancy may offer Mom-to-be some peace of mind.
Postponing X-rays until after Baby's birth — Our family dentists in Birmingham don't recommend this. If a dentist is recommending X-rays — especially during pregnancy — chances are the dentist has determined that X-rays are critical to examining a dental problem and whether it requires immediate treatment or can wait until after pregnancy. Putting off dental problems until after Baby is born may seem convenient at the time, but dental emergencies with a newborn are no fun. Use the pregnancy period to catch up and stay on top of all dental needs, including fillings for any potential cavities.
Speaking of newborns and teeth — A baby's teeth begin to form between the third and sixth month of pregnancy, in the second trimester. Doctors and our family dentists in the Royal Oak area recommend expectant moms consume a healthy diet especially during that time, full of foods rich in calcium and vitamins A, C and D. Vegetables, fruits and quality dairy products will help nourish Baby's teeth, with the first set of 20 being in place under the gums when Baby is born.
Family Dentist in Royal Oak and Birmingham, Michigan
It's best to let our Birmingham family dentists know as soon as a bundle of joy is on the way. Our dental team knows exactly what to watch for during pregnancy and, if necessary, will recommend only procedures deemed medically safe for an expectant mom and her baby. Remember that dental visits are especially important during pregnancy. If you're expecting, call Hartrick Dentistry at (248) 712-1149, or contact us online today to schedule a checkup and cleaning.